We have seen a ton of break rooms / guard rooms in our days, I'd venture to say hundreds if not thousands.  We have seen some amazing spaces and some not so amazing spaces, and we know everyone does not have the opportunity to visit other operations and take note of what is working in the behind the scenes locations.  So, we have made a list to give you some inspiration on ideas for improving your break room / guard room.
#1 – Clean it – I know this sounds common sense, but it isn't.  Maintaining a break room is work, it takes effort, it takes constant follow through and we have seen it fall through the cracks a lot.  We challenge you before you go down the rest of this list to start with cleaning your space.  Really clean it.  Would you want to eat lunch there? Is there stuff you can declutter and get rid of?  Is it a graveyard for broken signs, equipment, things you don't use…purge!  Is it taken over by lifeguard water bottles, clothing, lunch bags, and personal items…clean it up.  Create a lost and found bin and a procedure for clearing it out and donating items/tossing items every week.  Ensure there are enough trash cans and they are emptied frequently.  Assign break room cleanliness as an opening / closing duty and follow through on it until it becomes a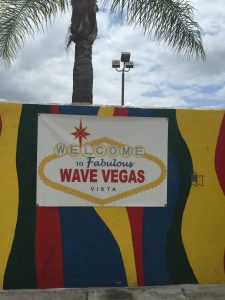 habit.
#2 – Add Color – Paint is cheap and can be added to walls, floors, ceilings.  Add colorful artwork, motivational quotes, organizational value statements.  Make a wall your staff can use as a fun instagram background. I would change paint colors annual based on the theme of the year too!  Keep it fresh, modern, and uplifting.  If you are having your staff sit in a dark, dreary, dungeon-like space during their breaks I'm sure it will impact their mood. 
#3 – Communication / Information Center – Think school concept with a whiteboard /corkboard set up where the staff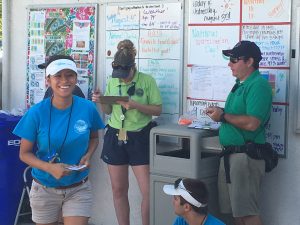 knows to look for daily information.
This is much cleaner than posting notices all over the place.
Who is on duty, 
what do they need to know for the day (events / attendance numbers), motivational quotes, etc.

 

I would use our communication center to relay information and to start our daily crew set-ups.

 

We would post brain teasers, riddles, safety reminders, birthdays, shout outs, audit results, and much more.

 

Staff knew to come in and would read the board daily.

 

Warning:

 

This does take updating and effort.

 

If it is the same information all the time then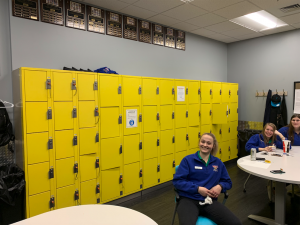 they will ignore it.  We would plan out information for the entire season and then could add relevant information as needed. 
#4 – Personal Areas – Staff needs a place to store their stuff.  If you have a smaller staff this could look like personal lockers or cubbies, larger staff may be hooks or open shelving.  Regardless, they should feel like they have a place.  Plus, personal storage areas keeps these items from being shoved into every corner and making the space feel cluttered. 
#5 – Personal Care Station – Create a space for items they may need to be effective.  A water/ice station, with personal care items (sunscreen, powder for chaffing, lotion, feminine hygiene items, hair bands,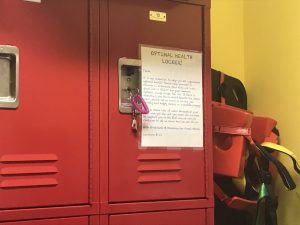 spray deodorant…).  There is nothing worse than being at work and needing something you don't have in your bag, you become self-conscious or worried and have a harder time focusing.  The Dollar Stores are a great place to get personal care items for cheap. This could even expand into a lifeguard loaner item system for when they forget their whistle, hip pack, or need a dry shirt.  We had a checkout system with leadership to ensure we would get these more expensive items back.
#6 – Exit Ritual – Over 15 years ago I visited a waterpark and they had a tiki head placed at the exit of the guard room area.  Every time a guard walked out of the area, they reached up and hit the tiki.  They explained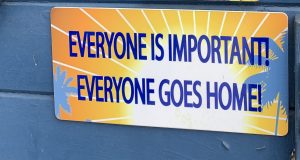 this as a focus technique.  It was an environmental trigger to get them to remember what they were there to do.  I loved the concept.  We translated this by placing a sign at the break room gate that said "Everyone is Important – Everyone Goes Home" that we asked staff to touch as they left the area to check in to the task of lifeguarding and re-focus.  These behaviors are small actions, that may take effort to start, but they are something staff will remember forever. 
#7 – Charging Station – Let's be real, staff on break is on their phones. They need to connect with their social media fans and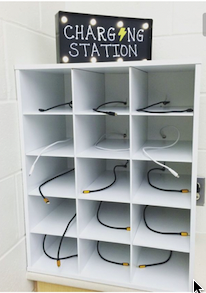 let them know they have just been working and have not been abducted by aliens.  I know my phone battery percentage is of utmost importance to me personally as well, having a place I knew I could charge my phone would make me feel welcomed, as opposed to having to find some random outlet and sit on the ground in order to reply to my fan mail (or, let's be real: just call my mom).
#8 – Connection Cards – We were recently on a trip visiting clients and ate at a restaurant with Trivia Pursuit cards on the table.  We had a great time asking each other questions, and trading with other tables for different cards. I immediately thought this would be fun for staff, and a great way to reinforce inclusion of all team members.  You could rotate types of cards from joke cards, trivia cards, would your rather cards, question cards, or other types of conversation starters. 
#9 – Legacy Marks – Everyone loves to leave their mark. I know exactly where my initials are in the concrete of the first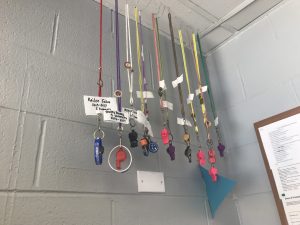 waterpark I opened. Shhh don't tell anyone!  Give staff the opportunity to leave their mark, or have their legacy remembered.  This can be done with a photo wall, painted handprints, or written names. We saw an idea I loved that was hanging whistles / lanyards in the corner of a breakroom.  It was like an art piece of hanging whistles, and I inquired about the installation to find out that they let third year guards hang their whistle up proudly to be remembered.  I thought it was a great idea to promote staff returning and was super cool to look back on the names / whistles / pins and connect with fellow lifeguards. 
#10 – Air Freshener – If you have an indoor break room / guard room this is an important one.  I can't tell you how many times we have walked into a room and had our breath taken away, and not in a good way.  Make sure the ventilation is good, that stinky items (training equipment, shoes, trash cans…) are aired out or sanitized so they don't stink.  Do what you can to make it smell pleasant without killing people with fragrance overload. 
#11 – Temperature Control – This is something to consider for both indoor and outdoor locations.  If it is hot outside do you have shade, fans, misters, methods for the staff to cool down.  If you have an indoor location is it an appropriate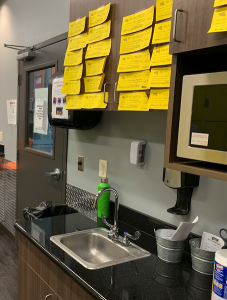 temperature so staff isn't freezing or too warm.  We want our staff to be able to relax and being uncomfortable does not promote relaxation. 
#12 – Food Amenities – Do you have the ability to have a fridge or a microwave?  I know this type of equipment takes cleaning and regular maintenance, but staff also greatly appreciates the ability to have cold / warm food and drink.  Maybe you could have a coffee / tea / lemonade station on specific days.  A lot of staff members have special diets, or try to save money be bringing food from home.  Consider if there are ways you can make this easier for them.
#13 – Snack Share Area – Create a basket or area where staff members or leadership can leave treats or items to be shared.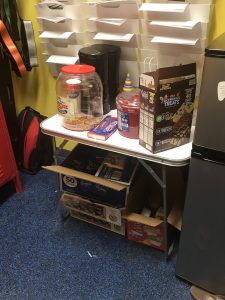 I'd suggest promoting it as a store bought / packaged item only area.  This is a great way to put fun snacks out for the team or give staff members an option if they don't have anything to eat and need a quick snack. 
#14 – Games – For special occasions considered ways to add games or activities into your break room. Miniature golf mats, Jenga, Ping Pong, Water Pong, Cornhole, Smash Ball, 4 Square.  The ideas are endless and depending on your space you may be able to do larger games. These are fun options to also encourage community and inclusiveness.  I'd recommend having these come out on special days.  If Jenga is always there it will not be utilized as much. I've also seen a giant Bingo board with tasks / activities and once they are completed the staff members can sign their name to the square and earn something when they get a bingo, or two…Square ideas could include: provide first aid, pass an audit, give a shout out to an employee, make a rescue, do something special for a guest, receive a guest compliment…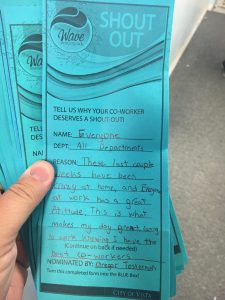 #15 – Recognition Boards – Think of ways to get your staff on the walls.  Shout out boards, Encouragement Notes, Employee of the Week / Month, Facility Awards.  Think of elementary bulletin boards as an example and see how you can physically recognize you staff members in front of their peers.
#16 – Comfortable Furniture – What would you want to sit on during your break.  Think table for eating, relaxation area.  Look for used outdoor furniture for cheap for sale online.  Consider the material and make sure it will hold up well to being wet and for high traffic use.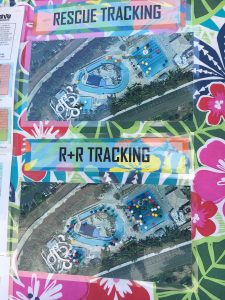 #17 – Rescue / Audit Maps – Post a map and use pins to track your rescues or your audits.  Different color pins could show audit response time (pass or fail) and are a great visual for staff to see trends and promote audits. 
#18 – Team Colors – One client has a pole in the middle of their break room that is painted with the winning teams color from the season before.  This promotes their team recognition concept and is a constant reminder of their teamwork focus.  I've seen team flags, surfboards, and many other objects representing staff teams. Operations have had a team ranking system where they show the top flag or color for the week, or display a ranking system based on points or the facility ranking system.
#19 – Resources – Create a station for staff resources.  Can they request time off / trade shifts / get a question answered without going into the office or stopping a member of management?  Do you have FAQ stations, posted schedules, swim lesson materials, a computer or ipad, or step by step guides for them to reference to complete tasks on their phones.  Give them as much information and resources to be able to handle their business without bothering you!
#20 – Name it – Give it a better name than "Guard Room" or "Break Room".  Think creatively, base it on physical features, decorations, your theme, or an inside joke.  Lifeguard Lounge, Staff Suite, Inner Circle Cave, Hideaway, Rec Room…the options are endless.  Have staff help brainstorm ideas so they have ownership in the name change!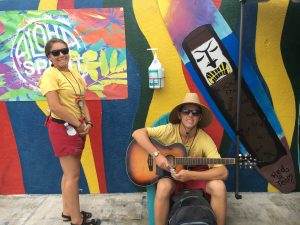 #21 – Music – Sometimes it can be fun to have some music in the breakroom, other times not so much.  If you are a facility that plays music regularly, like non-stop, I always enjoyed the quiet of the break room.  However it can still add some energy to the staff to have a change of music.  Encourage staff to showcase their talents!  We loved to have staff bring their guitars and play for us! 
#22 – Reading Material – Start a mini library, take a book or add a book.  Provide magazines or newspapers to flip through. I know I loved to check out mentally and reading a chapter of a book is something that heavily resonates with some staff and other articles can be conversation starters.
#23 – Time – Personally spend time in there.  I challenged myself to eat lunch or a snack (cookies were my favorite!) in my break room daily. It is such a different feeling of inclusion and connectedness when all staff levels have direct access to leadership and can laugh and joke and just talk….so important!  If your break room is a place you never visit, put a reminder in your phone, schedule time to sit down and connect. 
#24 – Conduct a Survey – Find out what your staff wants.  Sometimes we think we know what would make their lives easier when really they want something completely different.  Maybe they want a rack to dry their clothes, or more hooks for jackets.  Get their feedback and input to customize ideas for your operation. 
#25 – Design Competition – If you don't have it in you to tackle the break room, maybe some of your staff would love to help.  Create a design competition with a specific budget and have staff members pitch and present their design concept and ideas.  I'm sure you have some budding designers who would love to work on their first project and add to their resume of experience. 
How else have you spiced up your break room / guard room!  Share your ideas!!